Mk-Breed Black Diamond Black Bee Premium Crystal Black Shrimp Food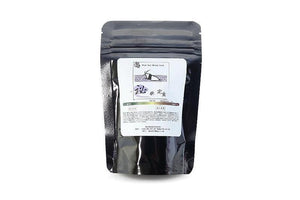 MK-BREED Black Diamond Black Bee Shrimp Food is specially designed for Taiwan bees with black and/or blue colors. In addition to high and complete nutrition value, various special mineral and vitamins are added to the product to enhance the black and blue color pigmentation. It also improves overall growth and ovary development. It contains many types of vitamins, amino acid, high unit of astaxanthin, seaweed, organic spinach, soybean protein, various minerals, added calcium, probiotics, brewers' yeast, and chitin. It improves digestive system efficiency and internal probiotic environment. This product effectively boosts immunity system and increases survival rate. The ingredients are made into very fine particles before processing, this enables both adult and baby shrimps to feed on this product. This product has high palatability, and is efficiently absorbed by shrimps of various stages. No artificial food flavoring is added to this product. 
Feeding Instructions: Feed three to four times a week. Use other MK-Breed shrimp food for the rest of the week to achieve a balance and comprehensive nutrient intake for shrimps. 
This product contains only natural ingredients and no artificial additives. Special processing is done to minimize water pollution. 
Note: This product is used for ornamental aquarium shrimps and not intended for human consumption. 
Guaranteed Analysis: Protein 42% minimum, Crude Fat 5% minimum, Crude Fiber 15% maximum, Ash 8% maximum, Moisture 5% maximum